Venice, Italy
Centered in Venice, Italy, this time of "rebirth" which began in the 14th and 15th centuries would show innovations in typography, book design, page layout, ornamentation, and illustration.
Mark for the society of Venetian printers, 1481
facsimile of the title page from Nicolo Zoppino's book Convivio delle belle bonne
Convergence of Cultures
Venice, Italy was the gateway of trade for Europe and the Eastern Mediterranean, India and the far east. This convergence influenced Italian style of the time. This was a time when printers made their mark, starting with Johannes de Spira in the 1400s to Nicolas Jenson, Laurentius de Rubeis and Pere Miguel. The Floral decoration was popular at this time. Erhard Ratdolt made significant innovations in the printing press. Some pattern forms of the period were influenced by Islamic cultural aesthetics. The introduction and evolution of the printing press meant that they were taking the spot that manuscripts had once held. This led to the decline of manuscript writing and a growth of the printing industry that would expand out to France. The 16th century is known as "the golden age for French Typography"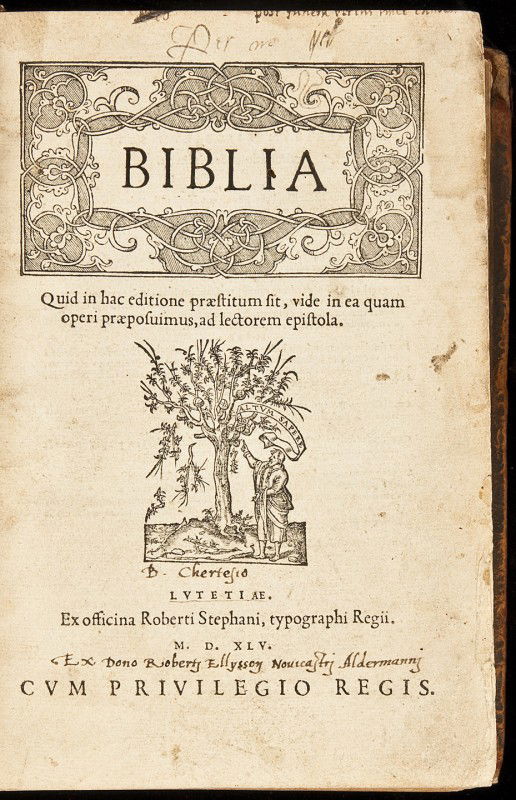 Robert Estiennes Bible in latin, 1545.
The Roman typeface
During this time. Gothic and Garamond type were used extensively. Robert Granjon is considered to be one of the most original of the designers in his use of the Garamond roman typefaces. His work became so popular that from 1550 to the 17th century, most designers referred to his typefaces.
Granjon Gros Cicero, by Claude Lamesle, 1742
Copperplate 
During the 1700's copperplate engraving became popular, this allowed for refined images and printing techniques which created excellent printed works. The copperplate made it easier for people to have artwork in their homes, who would otherwise not  be able to afford expensive oil paintings and works of art.
Copperplate etching, 1700's
Censorship
During the Renaissance era, censorship of materials was strengthened and was of increasing concern fro the authorities. Despite the taxation and censorship of printed materials, printing was growing and was established in the Americas within the 13 colonies.
A Page of the Hypnerotomachia Poliphili, printed by Aldus Manutius in 1499.
Learn more about Graphic Design History of the Italian Renaissance at:
http://www.designhistory.org/Type_milestones_pages/Renaissance.html
http://www.csun.edu/~pjd77408/DrD/Art461/LecturesAll/Lectures/lecture03a.html